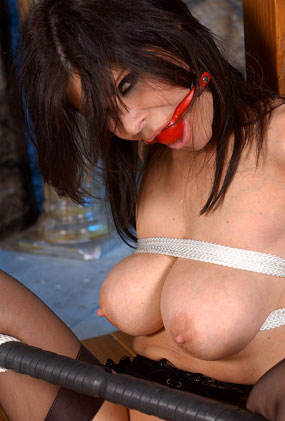 Name: Ashley Renee
Height: 5′ 5″
Weight: 125 lbs
Hair: Black
Eyes: Brown
Measurements: 36D-21-34
Birthplace: LA, CA
Movie/Image Sets available: 8
Ashley Renee's Official Website
Ashley Renee's Fan Club
20929-49 Venture Blvd., Suite 644
Woodland Hills, CA 91364
Porn Star Ashley Renee is a thick-bodied, round-bottomed, broad-shouldered, chest-heavy wild woman who has made a name for herself mainly in the field of specialty videotapes. She's been a top nude model for the past six years, and her luscious body has appeared in most every boob-fixated magazine you can think of. Ashley Renee's wonderfully full figure and willingness to go where few big-boobers tread have created quite a niche for this brunette beauty.
Ashley Renee may be known to you as Micki Marsaille if you're a fan of cat-fighting videos. This Wild MILF has been in quite a few rough-and-tumble slugfests, including 'Big Boob Conflict,' where she takes on Stephanie Rage in a frenzied battle royale. With starring roles in flicks with titles like 'The Fine Art Of Hairpulling,' you know that this is one lady who can take care of herself.
Ashley Renee's name can usually be found on bondage and discipline tapes, though. She's one of the most recognizable dominitrixes in the business, with a wide following in the tie-me-up set. Ashley Renee has very rarely dipped her toes into the hardcore arena, but you can be sure that when she does, it's with quite a sexy splash.