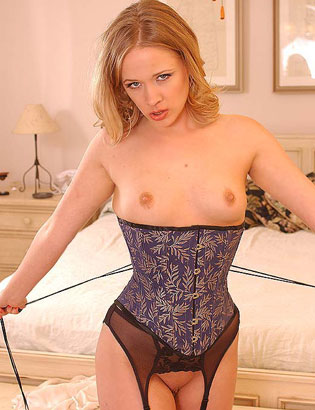 Name: Anna Mills
Height: 5′ 6″
Weight: 105 lb
Hair: Brunette
Eyes: Green
Measurements: 34B-24-36
Birthplace: Russia
Home Town: Laguna Nigel, CA
Movie/Image Sets available: 10 +
Porn Star Anna Mills is a lithesome lovely who brings real erotic intensity to every scene she stars in. She's a honey blonde dazzler with a wonderfully round backside and a set of small yet perky breasts that lend her a certain youthful allure. It's Anna Mills' eyes that you'll remember long after watching her, though, deep and dreamy and capable of pulling anyone into their sexy spell.
Anna Mills made her hardcore debut in October 2002, easing her way into the scene with a couple of amateur flicks in which she performed on a strictly solo basis. From there, Anna Mills' carnal career has branched off in two directions. Most often, she stars in fetish features of various kinds, delving into all manner of kinky fun in naughty non-sex roles. Her fetish flicks include 'Leatherbound Dykes From Hell #20,' 'Rubber Klinik' and 'Sole Seduction.'
Anna Mills' other career finds her as a passionate porn performer who usually works exclusively with other women. Among her best flicks is 'I Love Lacey,' in which Anna Mills hooks up with luscious Lacey Duvalle in a feverish poolside plunge. In 'Pussy Sweat,' Anna Mills joined Cherry Rain for a lesbian dust-up that's a must-see for fans of youthful erotic exuberance. Anna Mills actually hooked up with a male performer in 'Real Swift' when she and aStephanie Swift joined forces with Randy Spearsfor a torrid threesome.
Anna Mills seems to have drifted back out of the hardcore scene for the time being, leaving behind a legion of fans who have fallen for her leggy, lusty appeal. Although she's only appeared in less than twenty fetish hardcore features, each one of them sizzles with real passion and fire.